Mongolia holidays: advice for those considering a trip to Mongolia
Mongolia holidays are not your typical type of holiday. If you want to spend your Asian holiday lounging on a sun chair by the beach, enjoying pampering and luxury foods, you should probably choose a resort in Thailand or Vietnam. If you want to see world-class 'sights', and exit through the gift shop, China would be suitable. But if you want to experience a land of great natural beauty, with a remarkable nomadic culture, and are prepared to forego some luxuries in order to do it, Mongolia holidays can be one of the most rewarding and memorable things you'll ever do.
Contents:
Rewards
Challenges
Travel
Things to do
Costs
Organizing Mongolia holidays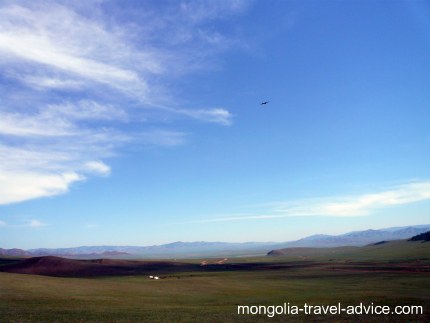 Mongolia holidays: create your own journey through the Land of the Blue Sky

Rewards
Mongolia holidays offer a lot to remember. Mongolia boasts some of the most beautiful landscapes on the planet. Anybody who enjoys the outdoors or wide, open spaces will love this place. There are steppes, mountains, deserts, forests, lakes and rivers of varying degrees of accessibility, and all of it is open to explore, paint, or photograph. Outdoor adventurers will find Mongolia a magnificent place to drive, cycle, climb, kayak, canoe, hike, or horse trek through. People can book organized tours, or go to a little more effort and make their own adventure.
Almost 50% of Mongolians still live a nomadic lifestyle. This is rapidly changing, as more people flood to the city in search of greater opportunities, but there are still fantastic opportunities to experience a traditional and exotic culture that remains largely unchanged after thousands of years. Mongolians have a remarkable culture of hospitality to visitors, you can drop in on a yurt any time to share a conversation and a cup of tea. These quaint, postcard lifestyles give way to Western progressivism and modernity in inner Ulan Bator: visitors will also have the chance to witness the rapid growth and urbanization of a country embracing Western-style capitalism and democracy after 70 years of communism. With the limited time you have, make some effort towards understanding Mongolia, rather than simply trekking through it. Spend some time talking with locals you meet on your way, it will make your Mongolia holiday hugely rewarding.
Whatever you choose to do, your memories will last for years to come. That's why most people come back again and again.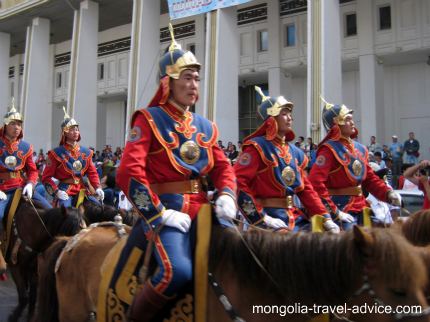 Many visitors time their Mongolia holidays to coincide with the Naadam festival in early July.

Challenges
Mongolia holidays aren't for everyone. Before you consider going on a Mongolia trip, it's worth asking yourself if you're comfortable forgoing a few of the luxuries in life. Infrastructure and international cuisine outside Ulan Bator are scarce, and the standard of living for most Mongolians is relatively low. Transport doesn't run on time, the power goes out, vehicles can break down... Challenges pop up every day; the locals deal with them with great competency and resourcefulness, but it can take time.
The standards of comfort and accommodation vary depending on how much money you spend, things range from rough to quite lavish. In any case, you should definitely be prepared to bump around in a vehicle over dirt roads, and eat food that you wouldn't necessarily seek back home. If you only want to spend US$20 a day, then you can expect to camp out or stay in basic yurts, and cook for yourself. If you're in the middle of the Gobi desert you probably won't get a shower every day. Make sure you're okay with this before you choose to go.
There is an embarrassing minority of tourists who are not willing to keep an open mind about other cultures, and vocally complain when everything doesn't run exactly as it would back home. If you're one of those people, you should probably consider going elsewhere. But, for the majority of others, the challenges and cultural differences encountered during Mongolia holidays make them more rewarding, and help create the great stories for friends back home. Be patient, keep an open mind, and you'll have the time of your life.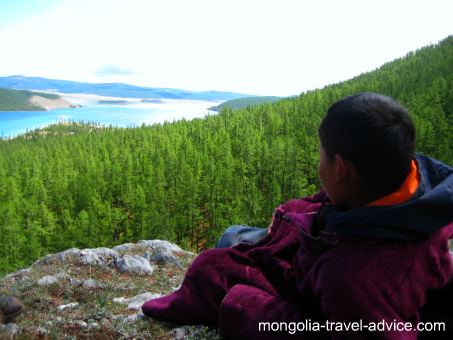 The rewards are worth the challenges on Mongolia holidays; you'll experience one of the world's most beautiful countries.

Travel
During Mongolia holidays, travel is paradoxically both very easy and very difficult. Difficult, because there's little tourist infrastructure, few paved or sign-posted roads, no public transport, and severe difficulties with language. Easy, because this forces most people to take a tour, which will take care of everything for you. All you'll have to do is work through the itinerary, price, and what food and accommodation is included; they do the rest. Read through my site for some good recommendations. I recommend you deal direct with the Mongolian tour providers, if you book through a Western tour company they'll likely add a 100% margin to everything you pay, and less of your dollars will be going direct to Mongolians.
If it's just a vehicle you're after, tour guides will be able to hire you one. The vehicle will always come complete with a driver, this is because they know the roads and are magicians when it comes to mechanics. You may be able to organize your own driver, but going through a tour provider will ensure you don't get inexperienced locals keen to earn a tourist dollar. It's important your driver knows what they're doing when heading into such remote country.
There are only a handful of paved roads in Mongolia, so if you want to cover large distances on your Mongolia holiday, expect to spend some time bumping around on dirt roads. Just sit back, watch the amazing view out the window, and ensure your driver stops regularly so you can get out, stretch the legs, and enjoy some Mongolian tea. On more budget tours, travelers will find themselves in the ubiquitous Russian-made UAZ four-wheel drive vans; these fit a larger number of people so are more affordable. The UAZs come replete with the sophisticated Mongolian 'Twin-60' air-conditioning system: crossing the steppe at 60mph with both windows open. More well-heeled travelers will likely end up in a Russian jeep or, increasingly, new 4WD vehicles such as Toyota Landcruisers. Don't be alarmed at taking the older vehicles, they may not include all the luxuries, but Mongolians stick with them because there is much less to go wrong than a modern vehicle (i.e. no electrics), and spare parts are everywhere -making the odds of a trip-ending mechanical failure far lower.
Public transport will get you from Ulan Bator to most Mongolian regional centers, but these towns have little to offer and you won't actually get to spend much time out in the countryside. Public transport should only be considered by the extremely budget-conscious: you will be crammed into a Russian van with about 18 people, it will barely stop as it bounces across the steppe for hours. I have traveled on public transport through Southern and West Africa for 6 months, and throughout Latin America for 12 months, and I can honestly say that Mongolian public transport is as rough as it gets. Even Ulan Bator to Moron -which looks relatively close on the map- is 25 hours of straight, bone-jarring torture. You can actually feel your internal organs hurting as they get bounced around, and about 5 people will typically vomit on any one trip. And don't even think about catching sleep! I can now say I will not take Mongolian public transport again. Budget tours will take similar Russian vans, but there'll be way more room to move, the driver won't be drunk, the drive will be smoother, the music will be under 500 decibels, and you'll stop more regularly. An exception to this would be an easy-to-reach place such as Terelj, which is close to Ulan Bator and has sealed roads all the way. Copyright mongolia-travel-advice.com
Flights to the different aimag (state) capitals can save you a lot of time. All internal flight paths lead back to Ulan Bator. It is far cheaper to organize internal flights once you're in Mongolia, or through a Mongolian-based tour company.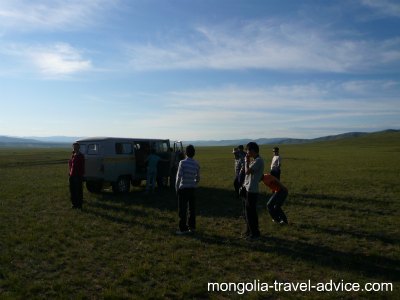 A much-needed leg stretch outside one of the ubiquitous UAZ vans. There are 10 people in the frame, me taking the picture, and about 5 more in the van. Oh, the joys of public transport!

Things to do

Mongolia holidays aren't filled with your usual tourist activities -tour buses, great architectural or archaeological sights, restaurants, theme parks, and the like. There are a number of popular sights and destinations in Mongolia, but for many it's the journey in between that excites and amazes. Stop in dusty little towns on the way, visit local nomads living in yurts, look out the scenery as you're driving along, and get out at any point on your journey and see a view so amazing you can point your camera in any direction and take a fantastic photo. It's more about just 'being' there in such an amazing place; some people will love that, others won't -have a think about which category you fall into before you go!
Mongolia holidays can also be filled with outdoor adventures for the more active. There are common destinations for hiking, horse treks, fishing, rafting and kayaking. Mongolia also has to be one of world's the best destinations for campers. Most tour providers have organized itineraries for these kind of adventure trips, but it's incredibly easy to just speak with them and organize a custom trip depending on how much time you have and what you want to do. The opportunities are endless!
People with special interests can also put a special twist on their Mongolia holidays. Those interested in sports and spectacles can visit during the annual Naadam festival, when the three manly sports of wrestling, archery, and horse racing are on display during a carnival atmosphere in Ulan Bator. Wildlife watchers might want to head to the Altai Mountains in the west to see Ibex, wolves, and Argali sheep; or see the antelope on the eastern plains -one of the world's last unspoiled grasslands. History buffs could spend time following in the footsteps of Genghis Khan, or viewing the Soviet structures of the world's second communist country.
Those on longer Mongolia holidays could consider volunteering with street children in Ulan Bator, teach English, or even help with conservation efforts for the wild Takhi horse. You might also wish to spend time in Ulan Bator, learn Mongolian (the next language of global commerce?!), and get to know the locals.
Mongolia is a remarkably free country, travel is cheap and itineraries are flexible: you can define your Mongolia holidays however you like.Use your imagination, a fantastic country awaits you!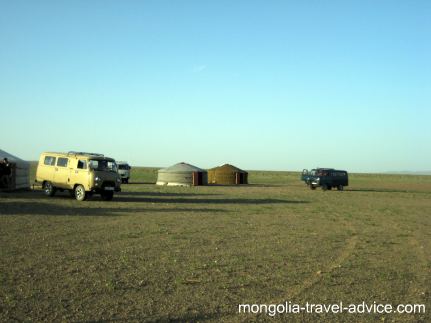 A basic yurt camp, such as this one in the Gobi desert, will cost you only a few dollars a night.


Costs
Mongolia is a remarkably cheap country for budget travelers. Those on a budget can find a hostel bed in Ulan Bator for about US$5 a night. Food costs per day can be as low as $5 if you eat the local fare (mutton dumpling soup: hoorah!). Accommodation is obviously free if you're camping, or yurt camps out in the countryside are less than $10 -depending on how luxurious they are. Transport costs are your main cost driver. A Russian van and driver will cost about US$200/day. (Copyright mongolia-travel-advice.com) You can reduce your own transport costs to $40/day if you share the van with 4 others. If you don't have 4 friends, it's very common for travelers in Ulan Bator to go around guesthouses seeking other travelers to share the ride and the cost in heading on a custom tour -you can do it, too! $40 a day might sound expensive, but where else can you hire car and driver for such a low price?! Believe me, it's worth it! You will have a fantastic time.
If you're really looking to save money, Terelj is an easy place to get to under your own steam, you can also take public vans to Khatgal on Lake Khovsgol, but don't say I didn't warn you about using public transport to travel such a long distance. Horse treks are also a great way to travel and save on transport costs; if you go riding and take a tent and food with you, you can travel on under US$30/day.
Those more keen to travel comfortably can expect to pay about US$30 a night for accommodation, or $50 in Ulan Bator. Bet on US$25 a day for food in Ulan Bator if you want to eat good, international fare. When traveling in the countryside, more luxurious tours offer all-inclusive packages which include transport plus good yurt camp accommodation for US$100 per day, per person.
Mongolia holidays are easy to organize. You can define your trip by reading about the available destinations and activities, then plan how you'll get to Mongolia (i.e. by train or by air). After that, all you need to do is get in touch with a good Mongolian tour operator and they'll do the rest for you. Don't go through an all-inclusive package back in your home country unless you want to pay double what you should, it's so easy to organize things yourself.