Mongolia Travel: where do you want to go? Define your trip
Mongolia Travel Advice: choose between vast deserts, snow-capped mountains, grassy steppe, rolling green hills, crystal lakes, and everything in between. The only constant is that it's all beautiful, unfenced, and dotted by the occasional yurt.

Most travellers will define their trip by the type of countryside they want to visit (as well as time/budget considerations), as it is the countryside that has the widest appeal.


So, check out the below destinations; click on each of the pictures for the specific site. Once you define where you want to go, you can start to plan your Mongolia travel adventure.
You can use trivago.com to compare accommodation options online before booking.
---

Gobi Desert and the South
Asia's largest desert, and one of the world's coldest, has drawn travelers and romantics for centuries. Barely-populated rocky plains, sand dunes, and strange rock formations...
[at least 7 days]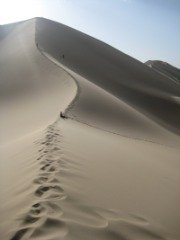 Click here to enter my Gobi Desert page
---

Lake Khovsgol and the North
Travel Mongolia's scenic alpine lake which stretches towards the Russian border. Surrounding mountains are perfect for hikers and horse treks. Longer trips across the Western mountains can take you up to the Dhuka (reindeer) people in Lake Tsagaan...
[At least a week if driving from UB, or 4 days if flying into Moron.]


Click to enter my Lake Khovsgol page
---

Terelj National Park, and other areas near Ulan Bator
Pretty wooded mountains with rock formations; more touristy but good facilities and still beautiful and ideal for hikes and short trips out of UB...
[At least one night, two full days]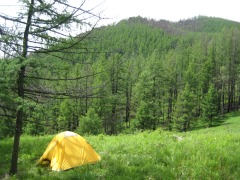 Click here to enter my Terelj page


---

Western Mongolia
Rugged snow-capped peaks, pristine mountain lakes, the vast low-lying regions of the great lakes depression, and the home of Kazakh culture. For the small portion of travelers who have the time or the money to make it out there, West Mongolia could well be the highlight of your trip. For the adventurous, the region's remoteness and lack of development make it all the more special. [One week minimum, not including travel time]

Click here to enter my Western Mongolia page

---

Central Mongolia and Karakorum
Rolling grasslands and blue skies, turning into higher mountains as you head west. Travel between Erdene Zuu Khiid monastery, lakes, and Tsetserleg National Park. Or choose your own route...
[at least one week; consider combining with Khovsgol or Gobi trip]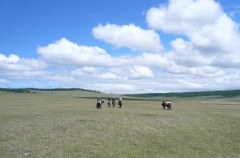 Click here to see my Central Mongolia page


---

Ulan Bator
The capital city's drab, Soviet-era buildings are quickly giving way to a host of new high-rises and restaurants. Most travelers start their Mongolia trips here...
Click here to enter my Ulan Bator page

---
---