Altai Tavan Bogd National Park, Bayan Olgii: the highlight of Western Mongolia


Stunning Altai Tavan Bogd National Park follows Western Mongolia's border with China and Russia, and is the greatest attraction in Western Mongolia. The Park really does have it all: beautiful valleys, alpine lakes, rivers, glaciers, and the highest peaks in Mongolia. This natural richness gives rise to a host of activities; most visitors will do some hiking or horse riding, but there are fantastic opportunities for the better equipped or ogranised to try fishing, climbing, rafting, or back country skiing. To top it all off, travelers can experience the amazing Kazakh culture and see archeological sights such as petroglyphs and burial mounds. With all these attractions, you would think the place would be crawling with tourists. Fortunately, Altai Tavan Bogd Park is still blessedly peaceful and unvisited; even in peak tourist season, traveling the most popular areas, you'll only see other tourists every few days or so. Get there before it all changes!

Contents:
Tavan Bogd Mountains
Khoton and Khurgan Lakes
Routes for hiking and horse treks
Fishing
Rafting
Permits and regulations
Off the beaten track
Getting there
This is a sub-page of my Western Mongolia page.



Alexander Glacier (left) and Potanin Glacier (right) run between Khuiten Uul, with Malchin Uul to the right.

Tavan Bogd Tours
If you're wanting to do a tour of Tavan Bogd you should visit my TAVAN BOGD TOURS PAGE.

Tavan Bogd mountains
Tavan Bogd, or 'Five Saints', is so named for the five large peaks which lie right on the Western Mongolian border. The tallest of these, Khuiten Uul, is the highest mountain in Mongolia, at 4,369m (about 14,300 feet). It forms the Altai Mountains tri-border between Russia, China and Mongolia. From between these permanently snow-covered peaks tumble two spectacular glaciers. The valleys heading up toward the peaks are completely empty of people and absolutely stunning. Whether you do a day hike up or make a five day hike or horse trek up from the lakes below, you'll find Visiting these peaks to be a highlight of Western Mongolia.
To visit the Altai Tavan Bogd National park peaks by vehicle, there is one access road which heads into the park east from Ulaanhus via Zagastruur. It's a rough but very pretty drive up through the barren, rugged hills and nomad ger camps to reach the park. Also, the road from Ulaanhus contains some of the best petroglyphs (deer stones) in Mongolia, so keep a lookout as you're driving past. If you dont' have a (good!) guide, you may risk driving straight past them.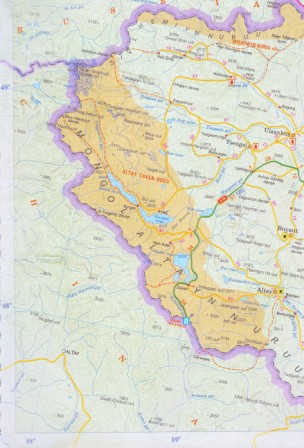 To see a full sized map of Tavan Bogd National Park, click here. (File will need to be downloaded in .pdf format due to image size limitations on my server).

Back to top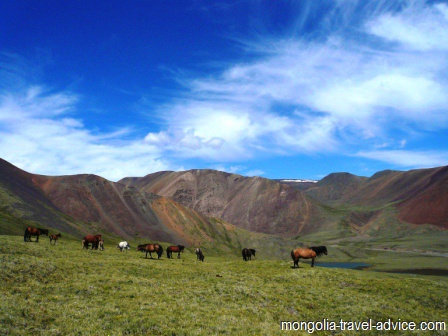 Horses on the beautiful hike from the Ranger's camp to the Tavan Bogd base camp.

As the track reaches the park there is a Ranger's camp beyond which most vehicles cannot pass. The Tavan Bogd Ranger's camp has accommodation (a spare ger to stay in) for about $5US a night, and offers camel or horse rides for about $10US per day. It's probably best to lock your bag when leaving your stuff at the rangers camp; one of the children there went through my fiancee's bag when we were out hiking in 2011, pilfering a cheap alarm clock. To reach the base camp at the foot of the Tavan Bogd Altai mountains it's a solid half-day walk, or you can hire horses from the ranger station and make the trip a bit shorter/easier. The hike is through very pretty, very open countryside, the vast valleys are devoid of trees and surrounded by imposing peaks. If you're reasonably fit then you should be able to do the return day hike to Tavan Bogd with no issues. The less mobile should consider taking a horse. The vehicle track continues from the Ranger camp to the base camp, following the Tsagaan gol (river) most of the way. Note the track is closed to visitor's vehicles past the ranger station but it must get some park management/ herder traffic as it's quite well defined and easy to follow. Don't walk too far off the track in attempts to make short-cuts unless you have a decent map and a compass, as the rolling landscape can hide landmarks remarkably easily and it's not difficult to lose your bearings up there (day hikers in particular should note how dangerous it would be to get stuck at that cold altitude overnight without proper sleeping gear). The track reaches the Tavan Bogd peaks and then turns right (north) up along the glacer to the base camp.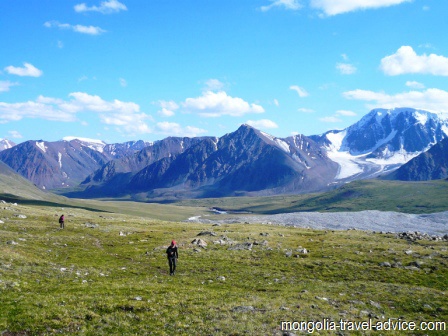 Hiking in Tsagaan Us gol valley as it runs from the Tavan Bogd glaciers. Behind the Tavan Bogd mountains lies China. My little pocket camera does not do justice to the vastness of the countryside up there.


From the base camp you can go and see the Tavan Bogd glaciers (some visitors take a walk along the glacier and risk falling down crevasses; I would not recommend this unless you have picks, a roped climbing buddy, etc.). Reaching Tavan Bogd base camp is enough for many people, as it affords great views of the mountains and glaciers. Those keen for more can climb Malchin Peak ('herder peak', over 4,000m), which can be done in a long day hike if you start very early in the morning. Malchin peak is steep but does not require any special climbing gear. Those with alpining gear (ropes, picks, crampons, etc.) can summit Khuiten Peak, arguably the best site for climbing in Mongolia. Inexperienced climbers can simply organize a professional guide to loan them gear and take them up there via the ridgeline (you will need to organize this weeks in advance), or experienced climbers with their own gear should be able to find a number of suitably challenging routes up the steeper faces of Khuiten. Even if you're just going to climb Malchin Peak, make sure you have a map, plenty of water, warm clothes, etc: Khuiten Uul ain't called 'cold peak' for nothin'. The mountains in the Mongolian Altai aren't the world's most difficult, but the weather can turn quickly up there so you should have some hiking experience or take a good guide. Some tourists went to climb Khuiten a few years ago and ended up losing their way and winding up in a Chinese jail, for this reason the Mongolian military authorities tend to insist those climbing the mountain take a local guide.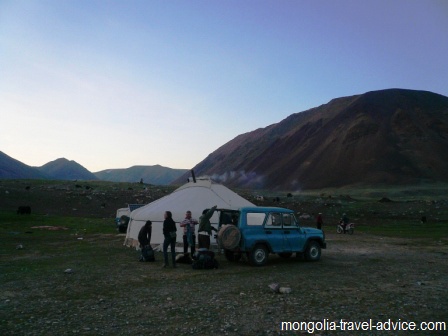 The Tavan Bogd Ranger station, which consists of a couple of gers and some animals. The base camp is much the same.


From the northern ends of Tavan Bogd flows the Tsagaan Gol (flowing back east towards the ranger station), from the southern end flows the Tsagaan-Us gol which contains the most visible run-off from the main glacier. There is a pretty well-defined walking trail that follows the Tsagaan-Us Gol as it flows south south east down towards Khoton lake (you can take a fantastic four/five day hike in Tavan Bogd down a largely deserted valley; more on this later).
Back to top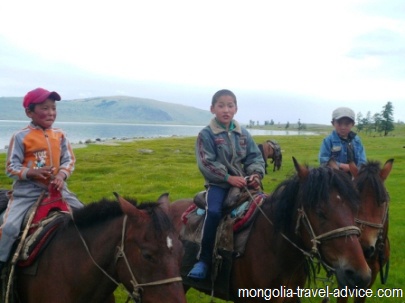 Some young boys, completely comfortable in the saddle despite their age, visit our camp by Khoton Nuur.

Khoton Lake, and Khurgan Lake
Khoton Nuur and Khurgan Nuur are two further highlights of Altai Tavan Bogd National Park and are some of the more popular tourist attractions in Western Mongolia. In all honesty, only the more western shore of Khoton Nuur is stunning, with its eastern shore and Khurgan Nuur being somewhat barren and windswept. Dayan Nuur, which lies about 10km to the south, is also somewhat barren and plagued by mosquitoes. But the western shore of Khoton Nuur really is beautiful, with scenery, streams and valleys that rival anywhere in Mongolia, including Lake Khovsgol. Also, the lakeside in summer is a fantastic place to authentically experience traditional nomadic Kazakh culture as you pass by families that still aren't accustomed to tourists, and plays host to a number of small Bayan Olgii nadaam festivals during mid- to- late July.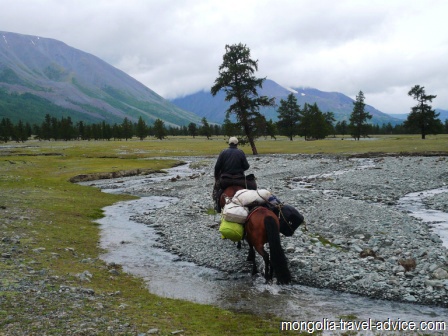 Crossing a creek as it runs into Khoton Nuur. The overcast days can be a blessing after five days under the blazing mid-summer sun


Khoton Nuur and Khurgan Nuur (pronounced 'Hoton Noor' and 'Hyurgan Noor') are joined together at their closest points by the clear waters of the Sirgali river which is about 80m wide which offers great fishing for Lennok, particluarly near the wooden bridge which spans it. The bridge is on the road from Tsengel, which is the only vehicle access road to the lakes (note that those traveling between Tavan Bogd peaks and the lakes by vehicle will have to exit the Tavan Bogd National Park and then re-enter via the different access road [see the map]). There is a store near the bridge which sells fuel, basic foodstuffs, and exhorbitantly priced jeep rides back to Tsengel (towards Olgii). The lakes are the perfect place to engage in some activities in Tavan Bogd National Park.
Into the northern tip of Khoton Nuur flows Tsagaan Us gol, which comes down from the Tavan Bogd peaks. The trek up towards there (4 days) is fantastic, and passes through some huge valleys and remote country which includes a number of archeological sites (keep an eye out for a large stone rising vertically from the middle of the valley about mid-way up, marks where the petroglyph rock drawings are located). You also have a chance of bumping into some wildlife such as Argali Sheep, Ibex, and even bears in this unpopulated area, whereas the odds of seeing these animals near the busy lakeside are practically zero.
Back to top

Crossing the Tsagaan Us Gol; horse riding in Tavan Bogd.

Routes for hiking and horse trekking at Altai Tavan Bogd
Hiking and horse treks in Altai Tavan Bogd National Park are a great way to see the area. One of the best hikes in Mongolia is to start at the bridge between Khoton and Khurgan Nuur and head north up the shore of Khoton Nuur (if you take the more barren east shore it'll be less pleasant, but a bit faster and will offer great views across the lake overlooking the lush western shore and affording better views of the snow-capped mountains which lie behind it; me, i'd take the lush greener shore as it's nicer and has more gers and nomads to observe and interract with). Note Khoton Lake is a small portion of the size of Khovsgol; you could travel the whole way up one side of the lake in a long day or horseback or a very long day hiking.
Into the northern end of Khoton lake flow two good sized streams, the white one (i.e. full of glacial silt) being Tsagaan Us gol which comes down from the Tavan Bogd peaks. You can hike up to the Tavan Bogd peaks along Tsagaan Us gol which will be an absolute highlight. You will need to be completely self sufficient (with your own tent, stove, food, etc.; don't bank on trading for food up there as there are few nomads in the Tsagaan gol valley) if doing it alone. Another option you should consider is to have a tour operator arrange a local guide to show you the way and provide a pack horse or camel to take all your belongings (and to carry a few luxuries that you couldn't afford to carry on a self-sufficient hike -beer at the glacier, anyone?) while you walk along nearby; this way you'll be more confident you're not going to get lost, will have more interactions with nomad families, and will have the freedom and comfort of carrying a day pack rather than a big heavy hiking pack. The choice is yours.
From the bridge at the lake to the peaks, to the ranger station will take you five to six days' walking (five if you're on horse back). You might allow a couple of days extra if you want to climb above base camp, explore the hot springs (see below), or simply take things slower or spend a day relaxing at a nice camp site. Whether you plan to end your hike/horse trek back at the lake, or up at the ranger station at the Tavan Bogd five peaks, you should arrange your pick-up transportation in advance. Some people assume they'll be able to make a phone call from one of the small army bases at either end of Khoton Lake (which aren't overly helpful, and don't have civilian phone connections) or find somebody to drive them back (prices at the Khoton Lake store or Tavan Bogd peaks ranger station for a ride back will be at LEAST double the going rate). Shoe-string travelers will be able to hitch some kind of ride eventually (i.e. within a day or two), but most travelers should consider where and when they want a vehicle to pick them up after their hike/ horse trek, and arrange for a driver to meet them there.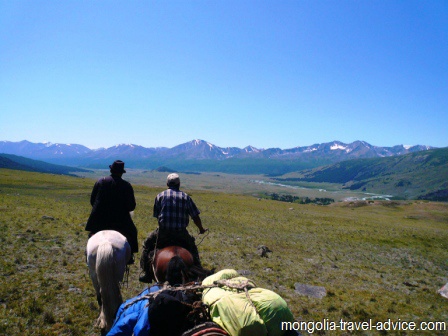 Tavan Bogd offers some of the best horse riding in Western Mongolia. Our guide and a friend take our pack horse down from the hot springs, overlooking the mountains some 20 miles away. The white waters of the Tsagaan Us gol can be made out in the foreground.


Also, from the northern tip of Khoton lake there are other faster yet less spectacular hiking or horse trek options: 1. you can turn back and head back to the bridge at Sirgali down the opposite shore to which you went up. 2. You can head north east to the hot springs (two days' return trek). The journey up to the springs is quite pretty. And once there, you can pay a few dollars to experience the different medicinal waters (i.e. 'this spring is good for your eyes, and this one [2 feet away] is good for your stomach, and this one...' etc. etc.); many Mongolians convalesce here by camping or sleeping in some basic huts provided by management, and hold strong belief in the healing powers of the waters. Given the Mongolian diet largely consists of mutton and dairy, I guess the nutrient-rich waters really do benefit them. Above the clinic houses and smaller springs, there are a couple of really beautiful day-walks into the steep hills to some of the higher springs, which follow very pretty mountain streams. Taking a bracing shower under a couple of small spring-fed waterfalls is an excellent way to break up the hike. The springs are not a world-class tourist attraction (don't expect to be lounging in a warm pool sipping a margarita) but they're a pretty place and offer an interesting way to interact with the locals. Note the springs can also be reached by vehicle.
From Sirgali (between the lakes), it is an easy day hike to some good-sized waterfalls located up a stream which flows into the north end of Hurgan Nuur. You'll probably only want to bathe under them on a hot day as the waters are quite bracing.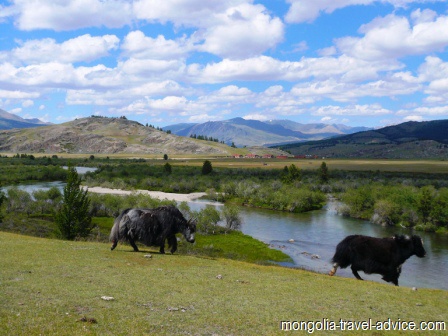 The river flowing into the northern end of Khoton Nuur offers some good fishing. Here there are some yaks heading down past our camp to water themselves.

Fishing
There is some decent fishing at Altai Tavan Bogd national park. Khoton Nuur and Khurgan Nuur are loaded with fish, but lake fishing in summer only seems productive when the lake surface is dead calm. Rocky outcrops, or points where streams enter the lake, are the best spots for fishing along the lake shore. The river that connects the two lakes at Sirgali is a popular fishing spot and is loaded with Lennok. A decent sized river flows into the northern end of Khoton Nuur, only a few hundred metres from where Tsagaan Us Gol also flows in. There is good fishing in this stream, particularly near the bridge, while Tsagaan Us Gol can get a bit too white with glacial silt at times. Be careful of your belongings while fishing in Tavan Bogd park, I left my Leatherman knife down by that river for about ten minutes after cleaning a fish, when i returned the knife was gone (and so were two local boys who had been fishing nearby -I suppose the temptation was too great to resist). Those who make it to the southern tip of Khurgan Nuur will find the source of the Khovd river leaving the lake, which is a great place to fish. In fact, the Khovd offers some of the best fishing in West Mongolia, from the lakes all the way back to UlaanHus, where the Tsagaan Gol meets the Khovd and clouds the water with white Glacial silt. In mid-summer the waterways are full of gnats and bugs, which means the fish are pretty well fed and you'll have to work bit harder to catch one; every fish I kept to eat on my mid-summer trip had a stomach bursting with bugs. The rivers in Tavan Bogd park don't offer fishing as good as Northern Mongolia, but you'll still catch a few and fishing's a great excuse to stroll around and explore the countryside.
Back to top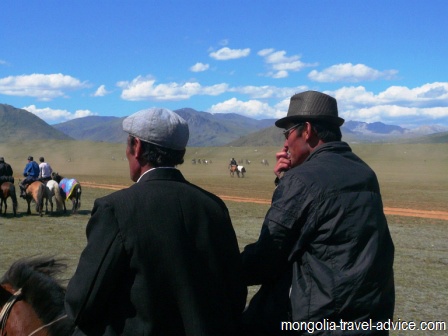 Joining a thousand other horsemen to ride out to the finish line of a horse race, during a countryside nadaam festival near the shores of Khoton Nuur. This great experience beats the Ulaanbaatar Nadaam any day, in my opinion. There are a couple of nadaam near the lake in mid-to-late July.

Rafting
There are some fantastic untapped opportunities for rafting in Western Mongolia. The Khovd River, from Hurgaan Nuur all the way back to Olgii, would make a fantastic rafting trip for amateurs. The river flows down canyons and vast open valleys of the Altai Mountains, and right up to when the road leaves the river near the park (and most probably all the way from the lake downwards) there are no difficult rapids. Unfortunately (or fortunately, for those who make the effort) there are not enough visitors to Western Mongolia to create enough demand for tour operators to organize these trips, but I did find myself wishing I'd gone to the effort of transporting a small raft or kayak from Ulaanbaatar over to the Khovd river as I'm sure a 2 or 3 day float trip from Khoton Nuur back to Olgii would be a fantastic way to see the country. The Tsagan Us river isn't huge, but in spring/early summer is big enough to take a small inflatable kayak down from the Tavan Bogd peaks back to Khoton Nuur, which would be a novel way to make the return journey. If anybody manages to make a rafting trip, please contact me or contribute as I'd love to publish some of your first-hand advice.
Back to top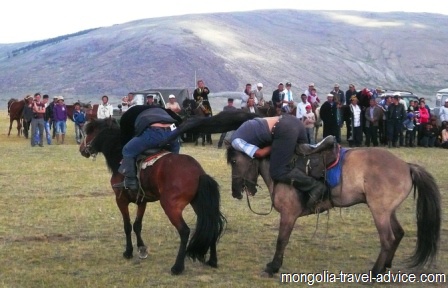 Locals playing a game of Buzkashi at a small Kazakh nadaam not far from Khoton Nuur.

Visitor Permits and Regulations
Visitors to Bayan Olgii's Altai Tavan Bogd national Park require a couple of permits. There's a military permit required due to the fact the park lies on the borders with Russia and China; these can be obtained at the army barracks in the north west part of Olgii city (everyone knows where the army base is, heading north along the main road, take a left before you hit the bridge over the Khovd river; the base is marked on Google Maps). Note that some advice prior to 2011 may state that permits are only issued near the border town near Russia, which is no longer correct. From memory, these military permits were about $30US each, which is pretty expensive by Mongolian standards. There are two quaint little army bases at either end of Khoton Nuur, and the soldiers are likely to stop you and request to see your permits, so you'd best arrange one or you might run into some trouble. In addition to the military permit, you may get stopped at the bridge over the Khovd, the Tavan Bogd ranger station, or the ranger house on the way to Sirgali, and be requested to pay a park permit for five dollars or so. These can be purchased on the spot.
Officially, visitors are required to be accompanied by a guide when in Altai Tavan Bogd National Park. However, I saw a few groups of hikers who were traveling alone and local officialdom didn't seem to have any problems with this. It may be enforced more strictly if you are climbing up to the five peaks, but the worst case is that a ranger will force you to twenty dollars a day to himself or another local friend to accompany you. Taking a local herder to lead a pack horse for should pass as a 'guide' in these parts. Those self-sufficient hikers hell-bent on traveling alone should be able to slip through without a guide, but for others it only costs a small amount per day, helps the local economy, gives you more insight into Kazakh culture, and offers more opportunities to visit local nomad families.
One annoyance compared against Lake Khovsgol was that open camp fires are prohibited in the park. I suppose this may mean a fine for anybody caught lighting one, but some tourists camping away from busy areas might just go ahead and risk it.
Back to top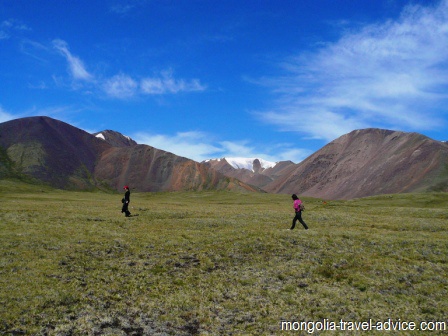 Hiking through the Tsagaan Us valley

Off the beaten track
Visitors to Tavan Bogd National Park are drawn to the five peaks in the north of the park, or the two lakes in the Park centre. There is usually good reason why certain places are popular, and you shouldn't see more than the odd small group of tourists every couple of days or so (even in mid-summer), but if all that sounds too touristy for you there are some good opportunities for hiking and horse treks in the southern most corner of the park. The road from the villiage of Altai heads west to Dayan Nuur, but south of that road there is a rarely-visited area which spans almost 20% of the park and contains a number of mountain peaks over 3,500m. For well-equipped and experienced hikers, or guided horse treks, visiting this area would be a great adventure. Just don't lose your way over the border or you might end up spending the summer in a Chinese jail.

Back to top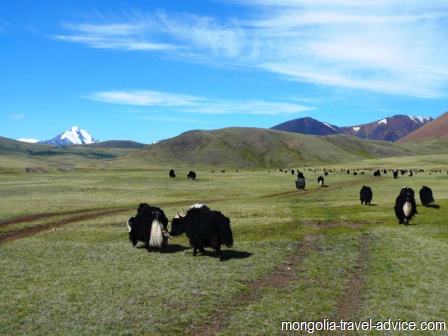 The best place to start an expedition to Tavan Bogd is in Olgii city. Flights to Olgii should be purchased well in advance or you might miss out! Best visit my TAVAN BOGD TOURS PAGE to find out more. From Olgii, it is possible to get public transport to the westernmost 'sum' centers of Ulaanhus or Tsengel, but from there traffic to either entrance to the park (i.e. the road to the ranger station, or the road to the lakes) is very limited, and unless you speak Mongolian or Kazakh you'll spend a number of frustrating hours trying to arrange a private vehicle.
You're better off organizing private transport all the way from Olgii. If you're just interested in hiking alone, you could order just the drop-off and pick-up transportation. Otherwise, you can pay a bit more to arrange a horse trek, pack horse, or vehicle tour. In either case, get in touch with a good Olgii-based tour company to arrange things for you.
Back from my Altai Tavan Bogd National Park page to my West Mongolia page.
Back to my Mongolia travel destinations page
Back to homepage